G.I. Joe: Origins #4 (Cover B)
$6.00
Purchase G.I. Joe: Origins #4 (Cover B)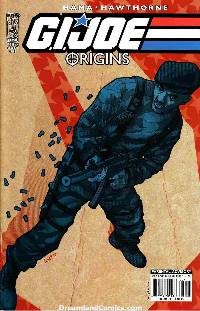 IDW Publishing
G.I. Joe Origins #4

The Story :
Larry Hama (w) o Mike Hawthorne (a) o Andrea DiVito, Feister (c)
New recruits Rock & Roll and Breaker infiltrate Chimera's stronghold with the rest of the G.I. Joe team! Things are going from bad to worse and it all leads up to our big finale next issue!
32 pages

Dreamlandcomics.com Price: $6.00

Most orders ship in 2-4 business days, but please allow up to 14 business days for order processing and delivery time.

Free Shipping

on any Graphic Novel, Comic or Gaming Book Order over $50.00!
---
Purchase G.I. Joe: Origins #4 (Cover B)
Other products in the category Back Issues / IDW BackIssues / G.I. Joe Back Issues (IDW):


G.I. Joe #1 (DF Variant Signed By Dixon)



G.I. Joe #6 (Cover A)



G.I. Joe #7 (1:10 Chaykin Virgin Variant)



G.I. Joe #7 (Cover A)



G.I. Joe #7 (Cover B)


G.I. Joe #11 (1:10 Virgin Variant Cover)


G.I. Joe #11 (Cover A)


G.I. Joe #11 (Cover B)


G.I. Joe Movie Adaptation #1


G.I. Joe Movie Snake Eyes #1


G.I. Joe Movie Snake Eyes #2


G.I. Joe Movie Snake Eyes #2 (1:10 Variant Photo Cover)



G.I. Joe: Cobra #3 (Cover A)



G.I. Joe: Cobra #3 (Cover B)



G.I. Joe: Cobra #4 (Cover A)



G.I. Joe: Cobra #4 (Cover B)



G.I. Joe: Origins #3



G.I. Joe: Origins #4 (Cover A)



G.I. Joe: Origins #5 (1:10 Virgin Variant Cover)



G.I. Joe: Origins #8 (Cover B)



If you are purchasing Graphic Novels, Gaming Books, or Comics you may choose to have them shipped via "Media Mail" shipping. If you have ordered over $50.00 worth of Graphic Novels, Gaming Books, or Comics choose "Free Shipping" Option. Most orders ship in 2-4 business days. Please allow up to 14 business days for processing and delivery time.

StoreFront | Graphic Novels | New Comics Rack | Shipping this week | Back Issues | Gaming | Sports Cards | Clothing | Action Figures and Statues | Collectible Card Games | New Magazines Rack | PreOrders New | Collecting Supplies | Non Sport Cards | Cool Stuff Other





comic book graphic novel sports cards
Dreamlandcomics.com ecommerce software powered by Nexternal