G.I. Joe: Cobra #3 (Cover A)
$5.00
Purchase G.I. Joe: Cobra #3 (Cover A)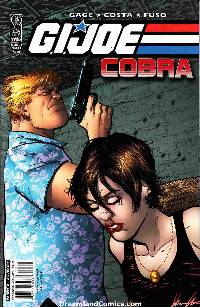 IDW Publishing
G.I. Joe: Cobra #3

The Story :
Christos Gage, Mike Costa (w) o Antonio Fuso (a) o Howard Chaykin, Antonio Fuso (c)
"If you gaze for long into an abyss, the abyss gazes also into you." After months as a mole inside Cobra, Chuckles discovers the truth of these words-and may well pass the point of no return-as he commits what is probably the most shocking act you have ever seen from a Joe. You cannot miss this issue... you've been warned!
32 pages

Dreamlandcomics.com Price: $5.00

Most orders ship in 2-4 business days, but please allow up to 14 business days for order processing and delivery time.

Free Shipping

on any Graphic Novel, Comic or Gaming Book Order over $50.00!
---
Purchase G.I. Joe: Cobra #3 (Cover A)
Other products in the category Back Issues / IDW BackIssues / G.I. Joe Back Issues (IDW):


G.I. Joe #1 (DF Variant Signed By Dixon)



G.I. Joe #6 (Cover A)



G.I. Joe #7 (1:10 Chaykin Virgin Variant)



G.I. Joe #7 (Cover A)



G.I. Joe #7 (Cover B)


G.I. Joe #11 (1:10 Virgin Variant Cover)


G.I. Joe #11 (Cover A)


G.I. Joe #11 (Cover B)


G.I. Joe Movie Adaptation #1


G.I. Joe Movie Snake Eyes #1


G.I. Joe Movie Snake Eyes #2


G.I. Joe Movie Snake Eyes #2 (1:10 Variant Photo Cover)



G.I. Joe: Cobra #3 (Cover B)



G.I. Joe: Cobra #4 (Cover A)



G.I. Joe: Cobra #4 (Cover B)



G.I. Joe: Origins #3



G.I. Joe: Origins #4 (Cover A)



G.I. Joe: Origins #4 (Cover B)



G.I. Joe: Origins #5 (1:10 Virgin Variant Cover)



G.I. Joe: Origins #8 (Cover B)



If you are purchasing Graphic Novels, Gaming Books, or Comics you may choose to have them shipped via "Media Mail" shipping. If you have ordered over $50.00 worth of Graphic Novels, Gaming Books, or Comics choose "Free Shipping" Option. Most orders ship in 2-4 business days. Please allow up to 14 business days for processing and delivery time.

StoreFront | Graphic Novels | New Comics Rack | Shipping this week | Back Issues | Gaming | Sports Cards | Clothing | Action Figures and Statues | Collectible Card Games | New Magazines Rack | PreOrders New | Collecting Supplies | Non Sport Cards | Cool Stuff Other





comic book graphic novel sports cards
Dreamlandcomics.com ecommerce software powered by Nexternal