Astro Boy Movie Prequel Underground #1 (Cover A)
$5.00
Purchase Astro Boy Movie Prequel Underground #1 (Cover A)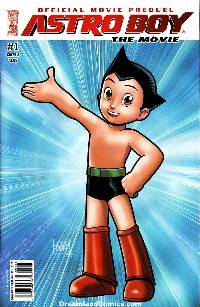 IDW Publishing
Astro Boy Movie Prequel Underground #1

The Story :
Scott Tipton (w); Diego Jourdan (a); Jourdan, Ashley Wood (c)
He's back! Astro Boy makes his amazing return to comics, paving the way for his exciting feature film debut later this year! It's an all-new Astro Boy adventure, with Astro exploring a strange subterranean kingdom in search of his lost father, encountering weird creatures large and small. But are they friend or foe? Look for the Ashley Wood variant cover!
32 pages

Dreamlandcomics.com Price: $5.00

Most orders ship in 2-4 business days, but please allow up to 14 business days for order processing and delivery time.

Free Shipping

on any Graphic Novel, Comic or Gaming Book Order over $50.00!
---
Purchase Astro Boy Movie Prequel Underground #1 (Cover A)
Other products in the category New Comics Rack / IDW NCR / IDW Other NCR:


Angel: Hole In The World #4 -- NM Unread Copy


Army Of Two #3 -- NM Unread Copy



Astro Boy Movie Prequel Underground #1 (Cover B)



Astro Boy Movie Prequel Underground #2 (1:10 Photo Variant Cover)



Astro Boy Movie Prequel Underground #2 (Cover A)



Astro Boy Movie Prequel Underground #2 (Cover B)


A-Team: Shotgun Wedding #1 -- NM Unread Copy


A-Team: Shotgun Wedding #2 -- NM Unread Copy


A-Team: War Stories- BA #1 -- NM Unread Copy


A-Team: War Stories- BA #1 (1:10 Variant Photo Cover) -- NM Unread Copy


A-Team: War Stories- Hannibal #1 -- NM Unread Copy


Beyond The Wall #4 -- NM Unread Copy


Doctor Who #8 -- NM Unread Copy


Doctor Who #8 (1:10 Virgin Variant Cover) -- NM Unread Copy


Doctor Who #9 -- NM Unread Copy


Doctor Who #9 (1:10 Virgin Variant Cover) -- NM Unread Copy


Doctor Who Classics Series 3 #1 -- NM Unread Copy


Dragon Age #1 -- NM Unread Copy


Eternal Descent #1 -- NM Unread Copy


G.I. Joe #15 -- NM Unread Copy


G.I. Joe #15 (1:10 Williams Incentive Cover) -- NM Unread Copy


G.I. Joe #16 -- NM Unread Copy


G.I. Joe #16 (1:10 Williams Incentive Cover) -- NM Unread Copy


G.I. Joe Cobra 2 #2 -- NM Unread Copy


G.I. Joe Cobra 2 #3 -- NM Unread Copy


G.I. Joe Cobra 2 #3 (1:10 Chaykin Incentive Cover) -- NM Unread Copy


G.I. Joe Origins #12 -- NM Unread Copy


G.I. Joe Origins #12 (1:10 Incentive Cover) -- NM Unread Copy


G.I. Joe Origins #13 -- NM Unread Copy


G.I. Joe: Operation Hiss #1 -- NM Unread Copy


G.I. Joe: Operation Hiss #1 (1:10 Incentive Cover) -- NM Unread Copy


G.I. Joe: Operation Hiss #2 -- NM Unread Copy


G.I. Joe: Operation Hiss #2 (1:10 Corroney Incentive Cover) -- NM Unread Copy



G.I. Joe: Origins #5 (Cover A)



G.I. Joe: Origins #5 (Cover B)


Ghostbusters Holiday Special: Tainted Love #1 -- NM Unread Copy


Ghoul #3 -- NM Unread Copy


Jon Sable Freelance Ashes Of Eden #5 -- NM Unread Copy


Locke & Key: Crown Of Shadows #3 -- NM Unread Copy


Locke & Key: Crown Of Shadows #4 -- NM Unread Copy


Star Trek DS9: Fools Gold #3 -- NM Unread Copy


Tank Girl: Skidmarks #4 -- NM Unread Copy


We Will Bury You #1 -- NM Unread Copy


Zombies Vs Robots Aventure #1 -- NM Unread Copy


Zombies Vs Robots Aventure #2 -- NM Unread Copy



If you are purchasing Graphic Novels, Gaming Books, or Comics you may choose to have them shipped via "Media Mail" shipping. If you have ordered over $50.00 worth of Graphic Novels, Gaming Books, or Comics choose "Free Shipping" Option. Most orders ship in 2-4 business days. Please allow up to 14 business days for processing and delivery time.

StoreFront | Graphic Novels | New Comics Rack | Shipping this week | Back Issues | Gaming | Sports Cards | Clothing | Action Figures and Statues | Collectible Card Games | New Magazines Rack | PreOrders New | Collecting Supplies | Non Sport Cards | Cool Stuff Other





comic book graphic novel sports cards
Dreamlandcomics.com ecommerce software powered by Nexternal